The Scene of the Crime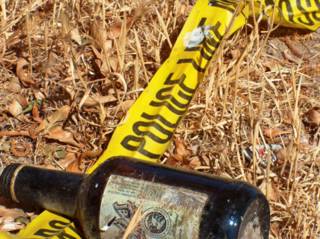 Megan and I decided to head out today to see small town America. We headed towards two small towns that we heard would offer great photo ops and a nice change of pace from our crazy town. I think we both had visions of antique shops and Ice cream Parlors but the first thing that we found interesting enough to take photos of was an old barn and vacated home.

Meg stayed in the car as I headed out with the camera and I should have stayed with her. We should have never stopped! As I headed around the back of the old farmhouse I ended up inside of the barn. Through the dust and grime I noticed that there was a car in the barn parked and partially covered. When I got closer I noticed the car was full of bullet holes! I got out of the barn to walk up to the house because I wanted some pictures of an old tractor and that is where I saw that I was at an old crime scene!

Needless to say, I took just a few pictures and headed out rather quickly! The thing is that I left my tire tracks and possibly some fingerprints behind! If any of you get calls from people that have names like Vinnie "The Boss" Marciano or Tommy "No Thumbs" Vanducci and they happen to be looking for me please tell them that I have moved to Mexico or anywhere else far away! I am really picky about footwear and I have no interest in wearing cement shoes!

Seriously though...we did get some cool photos of great old towns and I will post them soon.