The Rain Tears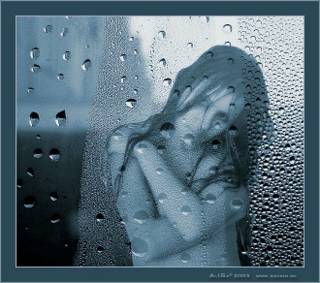 I have been wanting to write a story for a long time and I thought that I would write it in pieces and post it here for others to read if they are interested. I have not written for a long, long time but I have to start somewhere I guess. Here it goes....

The Rain Tears

The last time I saw her she was walking alone in the rain. Her head was hung low and she was soaked from head to toe. It was almost impossible to tell that she was crying because the rush of water from overhead soaked her face but I could tell. I could always tell.

We met two months before I decided to give up on us. I knew in my heart that she cared for me and wanted me to make more of an effort but I couldn't risk the heartache that could occur so I walked away from her. Actually it was more of a run. I ran as fast as I could; just as fast as I had run from so many other things in my life but this time was different. I recall the confusion that came over me that night when I realized that I had left something behind and that confusion literally sacred the hell out of me. I had never left anything behind before. I always walked away with my things packaged neatly and my feelings safely tucked inside my steel heart. I always walked away knowing that there was nothing that would ever give me a reason to return. I had a way of making the memories fade and the emotions cease to exist.

But that night was different and as I sit down now to think about it I realize that seeing her walking away actually hurt me. When I watched the others walk away nothing ever really occurred to me. Nothing ever really came back to harm me. But watching her was frightening and sad and for the first time in my life I knew that I was wrong and that I would forever see her in my mind. She would forever haunt my heart.

As she walked away my mind went through a crazy slideshow. The kind that you see in a soap opera dream sequence as a woman is being kidnapped by mobsters or a man is having chest pains. Images of her nude in Mexico cut through me violently and rapidly just like the images of her and I first meeting. The reality of the images devastated me and as I stood there watching her walk away I actually began to cry. Thoughts and questions burned through me like a river of red and orange boiling lava about to swallow a small town. I recall saying quietly to myself, "What the hell was wrong with me? I don't cry. I don't give a damn. There is always another girl. There is always another night." I was drowning in the heated pain that swirled within me and there was nobody to save me. There were no sticks to grab onto to escape the burning flood inside of me. I knew right then that I may never feel alive again.

So standing there with my heart on fire and my mind racing faster than I have ever seen a race car drive I felt lost. I felt broken. I felt dead inside. I had felt like this once before in my life and I promised myself then that I would never allow myself to hurt again but I could just not help it this time. All I could see were her eyes when I closed mine. Her eyes were as big as saucers and as blue-green as the Caribbean ocean. All I could hear was the sound of her voice and the beating of my heart. I was standing on a busy street corner in San Francisco surrounded by people and cars and clubs alive with music and all I could hear was the purr-like whisper of her soft voice. It echoed through me like she was standing in a canyon and screaming out for me to love her. I wanted so much to scream out to her. I wanted her to stop walking. I wanted to hold her and keep her safe. I wanted to make her tears stop and shelter her from the rain. But it was too late.

The last time I saw her she was ducking into a dirty old yellow cab with her head hung low. The last time I saw her she was crying and I was standing alone with a broken heart that I was not supposed to have.

To be continued...