The Pretty Girls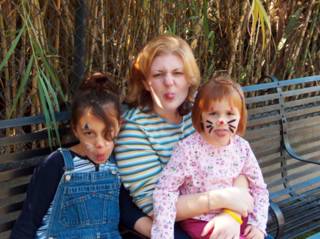 These are my absolutely beautiful angels...well...they are usually a little more beautiful than this :-) Anyway,Megan and I had the kids this weekend and we had a great time. It seems like whenever I see them they just get bigger and bigger. It is great to see them grow up healthy and strong but it kills me inside to watch them get bigger. Lauren is eight and Grace will be four next week and I can still remember when Lauren was a baby. Just after she was born when she could not sleep through the night I would stay up and dress her up like a little doll. I loved to hold her and carry her but now she is almost as tall as I am. That makes her hard to hold! They both have the most incredible little personalities. I will not say that they are perfect but I would say that they are close. Maybe I just believe that becasue I am their dad!

So tonight the girls are home and I am here with Megan and although I am very happy to have someone near me I really miss the little voices that were here just hours ago. I miss the little hugs and wet kisses and I miss the way that they look when they are happy. Grace's little freckles are adorable and Lauren's smile can light up a room. I will see them on Friday for a three hour dinner visit and that will be great. I don't see them enough but their mother is happy with how much I see them. The hardest part of the whole situaution for me is the fact that I am sick. I wish that I could have more time for them so they could get to know me better but that is out of my control. I just hope that this damn liver disease can be cured one day so I can live to see them grow. When I was first diagnosed some of my first thoughts were of their weddings and graduations. I have to be there for those events. They will need me there.

Right now tears are welling up in my eyes like they do so often when I think about the kids so I guess I will end this for now. I know that I will have good news one day to write here about my illness. This will be the first place I will write about getting on the waiting list for a new liver. This is the first place I will write the first chance I get after the transplant. I am too young for all of this but my girls are even younger and they need me to get through this. Come to think about it Megan needs me to get through this also. Who would I be to dissapoint all of these beautiful girls?