The Poet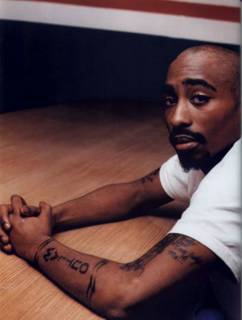 There are so many people out there that seem too afraid of rap music for some reason. I am not a fan of many rap artists that are releasing albums these days but I am a big fan of "old school rap". I guess that I am writing this in hopes that someone may read this and try to listen to something that they would not otherwise have listended to.

My favorite rap artist, Tupac Shakur is pictured above. Based on his appearance, many people were afraid of him and that is sad. How many people that read this know that I have several tattoos and that both of my ears are pierced? Appearances don't mean much. I am generally a nice guy.

Tupac was killed in Las Vegas in the 1990's and not many people realize it but when he died the world lost more than a thug. His reputation made him out to be a sinister gangster but he was a brilliant poet. Right now I am listening to his song, "Only God Can Judge Me." Even though he has been gone for many years his unreleased work keeps surfacing and right now he has a release with Elton John called, "Ghetto Gospel." Like many of his songs this one speaks about the struggles faced by the youth in our society.

Some songs that I would reccomend include:

Dear Mama
I Aint Mad at Ya
Letter to my Unborn Child
Smile
Keep Ya Head Up

Give them a shot if you have the chance. I believe that an open mind is a wonderful tool. Take care of yourself today. I will close this with a quote from Tupac:

There's gon' be some stuff you gon' see that's gon' make it hard to smile in the future.
But through whatever you see, through all the rain and the pain, you gotta keep your sense of humor. You gotta be able to smile through all this bullshit. Remember that. Mmm, yeah. Keep ya head up.Yeah.