I am furious!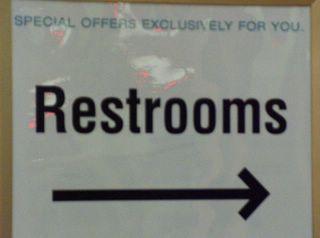 I hardly ever post twice in one night but this is crucial so bear with me.

This may very well be the worst photo that I have taken but I took it to prove a point! The sign says "special offers exclusively for you" so naturally being the bargain hound that I am I went quickly to the restroom to check out the deal. I found no special deals there!

I did however find the following not so special things:


A homeless man washing his ass in the sink.
An old man with his pink boxers at his ankles showing the world his "parts" in front of a urinal.
The not so glorious scent of festering crap.
A ton of grafitti (I guess if I go back tonight I might get lucky!)
A turd stained wall.
A man talking to a mirror.
American advertising is going to hell rapidly. I should have complained to a manager! I want my special offer!
Smile today! :-)