Sand Heart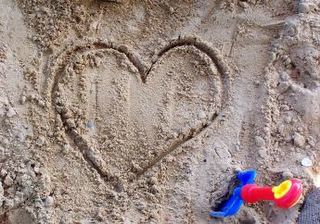 It is Sunday at 4:30 and I just took a handful of pills. Don't call an ambulance...it's ok. I mean, I did not consume Valium with Jack Daniels (never really liked the stuff) or anything like that. I just took the pills that I forgot to take this morning that are supposed to help all my guts function in the correct way. I take about 20 pills a day for this purpose but I often wonder if they really help. I bet they do somehow, but how?

Anyway, the picture above is interesting to me. When I was little I probably made a heart in the sand at some point...we all probably do this at some point. But as children everything is literal. As children a heart in the sand is well...a heart in the sand.

But as adults we look deeper. For instance when I see the heart in the sand now I wish that I could see it again as a little boy. Instead I see a symbol of love that can be wiped away, washed over with tide-like emotions and easily soiled. Maybe I am too dark and negative anymore. Maybe I am too jaded.

But onto happier things now...I just bought a shiny new book because I promised Dyllan that I would keep up with my reading and the sun is shining on a beautiful day. If I listen closely I may even hear a bird or two singing but I never listen that closely so I probably won't. Maybe I should listen closely. I will see what I can do.

Also...in the spirit of The Spud King, a blogger tried and true,click here for an amazing song that will really make you think about hearts and bushes and love and stuff like that. Smile today. It can only get better from here.