My ass is wet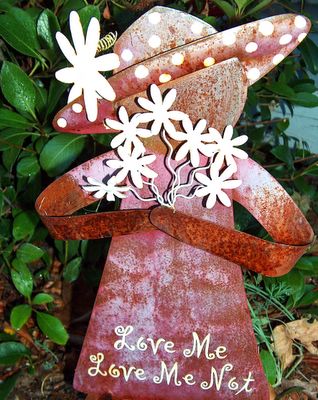 I am sitting here on my porch with this crazy looking rusted figurine looking out onto my lawn that is full of brown patches and my ass is all wet. You see, I have been trying to adjust my sprinklers again. This is a summer ritual for me that I dearly hate. If you read my post about doing yard work with my chihuahua you know by now that yard work is a source of entertainment for me in a way. Dealing with the sprinklers however is just plain frustrating.

The main problem is that according to comedians like George Lopez, I am supposed to have been born with the ability to do certain things simply because I am Mexican. Many of these things however I must lack due to the fact that my mother is quite white. For instance:

>I have no clue how to steal a car.
>I have no idea how to remove dents from a car.
>I would not function well as a Wal-mart or McDonald's employee.
>I am sure that I would get caught trying to get across the border.
>I can only do a few things with a tortilla.
>I cannot fashion any sort of usable device out of duct tape.
>I am virtually useless when it comes to yard work.
>I once tried to make a pinata but it became rock hard and had to be sawed open.

Now I do not mean to bash my Mexican counterparts out there but I am trying to make a point. There are just things that I cannot do and lanscaping is driving me crazy.

If someone out there can tell me how much yard fertilizer to use let me know. I need the right amount. Maybe I can figure out the amount based on the amount of fertilizer that people use to conceive children.

For instance, I don't want a jungle out there so I may not need as much as those crazy people in People Magazine that have six or seven babies at once. Maybe the amount used for twins would be alright. Can someone...anyone offer me a suggestion? My porn star neighbor has amazing grass and I want amazing grass too! Megan says that green spray paint simply won't do the trick. Any tips will be appreciated!

Smile today!