Talking Pretty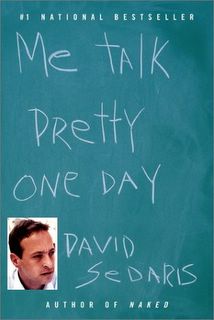 Meg and I were lucky to have had the opportunity to see David Sedaris read this past Thursday and I am still thinking about it. I mean, I love Sedaris' work because it is passionate, hilarious and emotional when it needs to be but at the same time, the man himself was a bit odd.

Meg spoiled me and bought me two of his books for me to have signed and I was pretty excited about meeting Sedaris but now that I have met him I have mixed feelings about him. I mean, I still very much respect him as a writer but he said a couple of things to me that struck me as strange.

First, he asked me who else that I was reading and I mentioned Augusten Burroughs. If you ever meet Sedaris, DO NOT mention Augusten Burroughs! Sedaris seems to have some sort of built up hostility in regard to Burroughs. I thought the funny little writer was going to explode. He looked at me and said dead seriously, "I am better than Burroughs." Sure he was calm about it but at the same time he was dead serious.

The second thing that Sedaris did that was strange was the way that he signed a book for Meg and I. He asked us the status of our relationship and when we told him that we were engaged he wrote in the book, "Best wishes on your first marriage." I still don't understand why he just assumed that this was going to be our first marriage. Maybe I am looking for some meaning in his words that wasn't there. Maybe I am just too analytical. Who knows.

Either way, listening to Sedaris make a sold-out crowd roar with laughter was really a great experience. We learned all about the sex life of a NYC taxi driver and that even the most well dressed people can be complete idiots in social situations. We also learned that baboons have a rightful place in a beauty shop and that Hometown Buffet is really a very scary place.

I would see Sedaris live again in a heartbeat. I will just be a little more open minded if I have the chance to talk with him again. I guess I should not have put him on such a high pedestal in my mind. He is after all just a regular guy that just happens to be a great artist.

So if you get the chance read something by Sedaris if you never have before. The photo above is of the cover of his book, "Me Talk Pretty One Day." This will probably always be my favorite book. I had the chance to look at my favorite author and tell him thank you for making all the bad things that I deal with a little easier to handle. That is one moment that I will never forget. Seeing Sedaris live on April, 28 2005 with Meg was the best way that I could think of to make that day count. It was a great learning experience.