Pride Weekend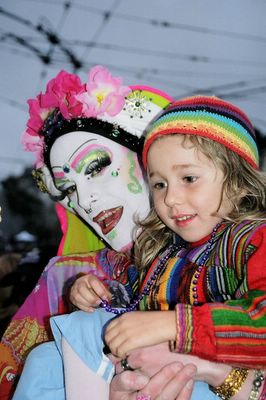 The photo above contains all the things that I really love about life. There is color, two gorgeous smiles and a beautiful undeniable sense of freedom and innocence.

This was taken over the weekend on Castro Street in San Francisco, CA during the cities annual Gay Pride Weekend. To see all the photos we took over the weekend click here.

Even though we aren't gay, Megan and I attended the celebration this year as volunteers and for two awesome days we celebrated and basked in all the amazing colors. We are believers that gay marriage should be legalized based on the fact that people should be able to express their love no matter their circumstances. This picture is a prime example of that. Hell, if this lady really loves a box turtle she should be proud and they deserve to be happy! :-)

Look at us for example; People may think that we are crazy for getting engaged because I am ill and need a transplant but we just don't think that way. Megan has said from the time that we found out that I was ill that she would rather endure this battle as my wife. It may sound funny to say, but I love our love. I finally found a crazy hippy chick with a tye dyed heart that will attend freedom celebrations with me and listen to Willie Nelson for hours and hours and I'll be damned if I will let her go.

To be honest, if there was a man that made me feel the way that I do about her I would love him just as much. There would have to be the sense of physical attraction (maybe this guy) :-) there also of course but it is ultimately what Megan has inside her that I love the most.

This photo of Megan and I explains why she is just so pretty to me. Look at those eyes! Hazel diamonds floating on top of an ocean of blue! They shine like all of her...all the time and that is just wonderful to me!

If you get the chance to attend a pride celebration give it a chance. Just show up with an open mind and a free spirit with or without clothes and just have fun! The little girl in the photo carries a precious sense of wonder in her eyes. We all should. Smile today.

One more thing...I have never done this before but I would like to Dedicate this post to a man named Woody that was a very dear friend of Megan's family. Woody married his partner at the home of Megan's family just a few short years before his life was taken by The AIDS virus. Woody contracted the virus when he was sexually assaulted as a child.

Woody was a terminally ill man that Megan loved and cared for for many years. Does that sound familiar? Tears are welling up in my eyes as I type this. I am not a religious man by any means but I firmly believe with all of my heart that Megan was sent from above to help Woody and I. She was also granted a dent resistant heart to help her deal with the pain. If I don't make it through all this crap that I fight you all will see Megan shortly after I go helping someone just like Woody and I. That is just what she does. Thanks Megan. I love you honey.