5 Guys/One City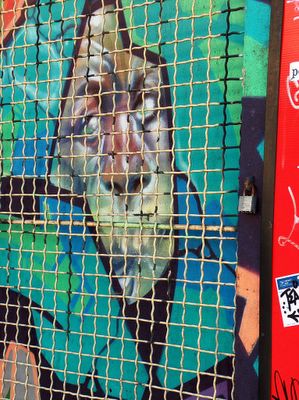 Do you ever just feel trapped in life? The photo above is one that I took on Haight Street in San Francisco the other day while I was hanging out with Matora, his brothers and a guy named Sherm. Actually, I am not really sure if his name was Sherm or not. He is great guy though and he has a wicked shoe fetish. Have a groovy pair of Nikes from the 90's? Send them his way!

Anyway, we had a great time and I learned a few valuable lessons from the experience.

Valuable lesson #1- I am old and really, really out of style! I learned this when I had to all but beg a doorman to let me into a fashionable club wearing a tye dyed shirt and Docker shorts. What the hell happened to my sense of fashion? I need help!

Valuable lesson #2- Don't let anyone named Sherm drink 10 or 20 shots of Hennessy and then try to talk to a sexy stripper named Rene. The poor girl was only trying to sell Sherm a lap dance dance when Sherm explained to her that she was not worth anywhere near the $5.00 per minute the dance would of cost. That from a guy who spent $500 on shoes in one day. Maybe Rene should have been selling laces or polish!

Also, if you feel crazy or just happen to be with a soldier or group of guys celebrating a bachelor party and you just happen to be in San Francisco you have to check out the corner of Columbus and Broadway! What a trip!

Valuable lesson #3- Just because you are the only guy who can't drink alcohol is no reason to drink nothing but Red Bull the entire night. If several Red Bulls are consumed it is possible that you will end up with shaky hands and the amazing ability to be able to pee every four or five minutes! I could have been the new superhero, Piss Man! "It's a bird! It's a plane! It's carrying a toilet!"

Valuable lesson #4- San Francisco clam chower/bread bowls are more addicting than crack! Consume with caution! If you eat too many you may end up saying things like...click here for the words.

That is the bulk of what I learned on our adventure. I also got some great pics that show off Haight Street, grafitti, amazing wall murals of Bob Marley and Jimi Hendrix and I got some interesting information about smoking addiction.

To see my latest pictures click here. This will get you to a slideshow where you can adjust the length of time each photo shows. Three-five seconds should do the trick. Smile today!