My Super Hero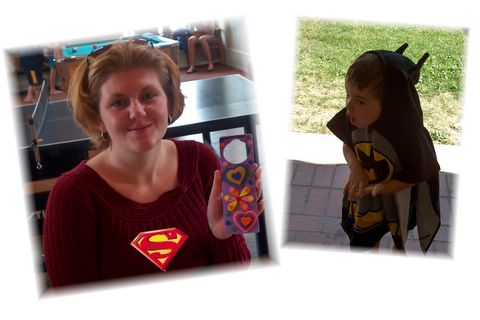 For a while now Megan has been studying child development and I never really understood why. There is not much money to be made in the field and it requires a ton of training. I have told her that she should really focus on something more lucrative just in case I get sick and she has to take care of herself and Hector alone.

But today I had the pleasure of watching her in action and it really filled my heart with pure joy. It was like watching a fish swim or a penguin playing in the snow. She just fit in there so well and I was amazed. To the kids that she works with she takes on a whole new identity.

For the first time in three years I met the other Megan. I met "Teacher Megan." And I'll tell you what..this "Teacher Megan" lady really is amazing. The kids love her. Her colleagues love her. But most of all "Teacher Megan" was so happy and her eyes sparkled with a new kind of joy that I have never seen before. It was beautiful! I am so proud of her!

So I have to say this, "Baby angel, (thats what I call her) I don't care if you never make a dime. You need to be in a classroom. You need those children like I need you. We will make finances work out. You are amazing!"

The totally adorable little boy in the photo above thinks that he is Batman because he wears the costume. Megan never wears a cape (that may be kind of sexy though!) but she sure is Super Woman to me!" This whole love thing is pretty damn cool. I am so blessed!

Smile today folks! Love someone.